Having instant chat to respond to customers immediately is great, but we understand that running a dealership is time consuming and you aren't always available right away. Luckily, our Managed Chat Concierge makes it easy to send customers automatic responses from live advisors so you can focus on closing your next deal.
Managed Chat can take the pressure off of you by:
Sending Automatic Responses: You can choose to respond to a potential buyer yourself or have a Managed Chat Concierge representative step in for you.

Assisting Customers 24/7: Someone is always available and actively responding to a potential customer, keeping them engaged, even while you're away.

Providing a Seamless Experience: Receive chat leads and transcripts directly to the email address already set up for your other Equipment Trader leads, and find them anytime in your TraderTraxx Lead Manager.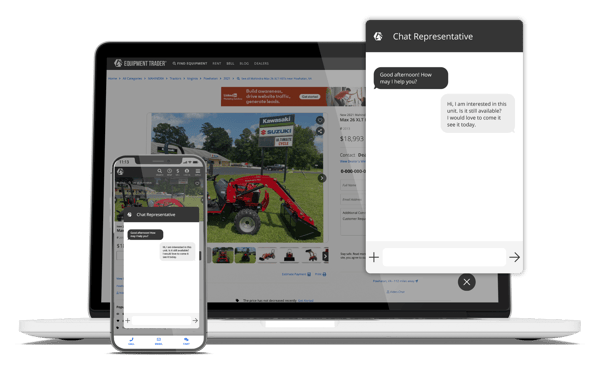 Want to learn more about effectively responding to consumers through Managed Chat?
Complete this form to be contacted about packages and pricing.